We will make a mosaic of SRTM tiles downloaded directly from the Web
Create a base map for exactly defining the mosaic extends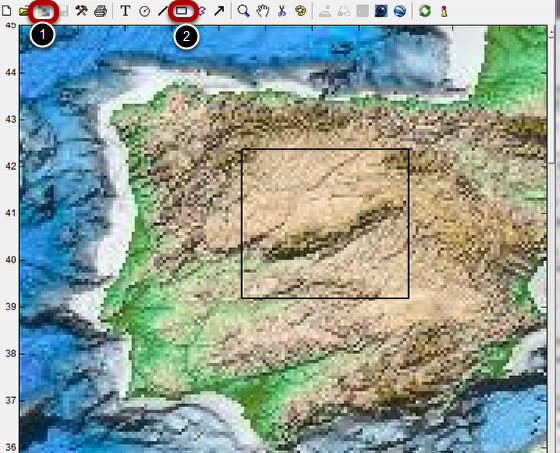 Create a base map with the "Base map" tool in (1). Zoom in to show the region displayed above. Draw one rectangle the the "Draw rectangle" button (2).
Call the mosaicer tool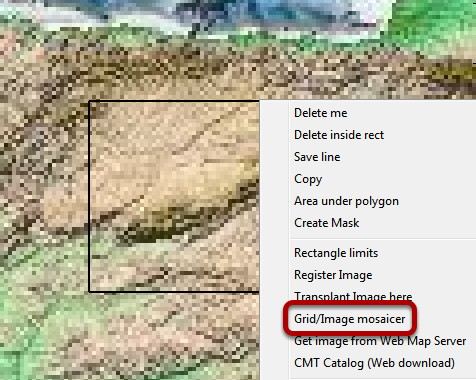 Right-click anywhere on the rectangle line to bring up the rectangle option menu. Hit the "Grid/Image mosaicer" to call the Mosaicer tool
Prepare to select the mosaic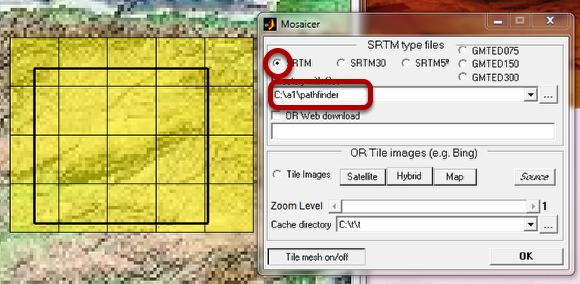 When the mosaicer tool pops up the rectangle guide that we drawn before is used to select which SRTM tiles are available to choose. Those are presented as yellow tiles. By default the selection falls on SRTM (3 arc seconds) and over one default directory where the tool would search for the to-be-seleceted-next SRTM tiles. We will not do it that way here since we are going to download them directly from the Web. Next image the selection process.
Finish selection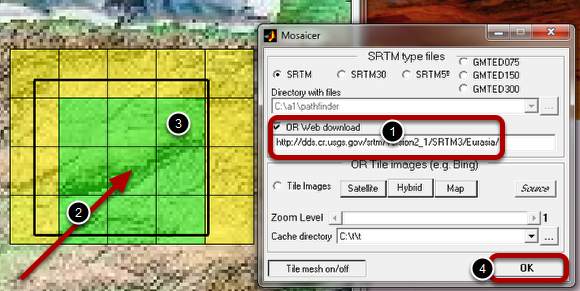 Check the "OR Web download" box (1) to tell the program that we will download the files. By default it shows up the the address for the Eurasian tiles. For other parts of the world the user needs to set the corresponding correct address. Next click on the yellow tiles of the left side (2) to (3) to select the individual tiles that turn green to indicate their selection type. At the end hit OK (4) and wait till the download finishes. Normally this step doesn't take long but that obviously depend on the internet connection speed.
The mosaic
And here it is already shaded illuminated with the default illumination model. To finish, we will save this file to use on another lesson showing how we can easily make a beautiful map with GMT. Just hit the "Save netCDF GMT grid" button (1) and call it "tejo_nasciente.grd"